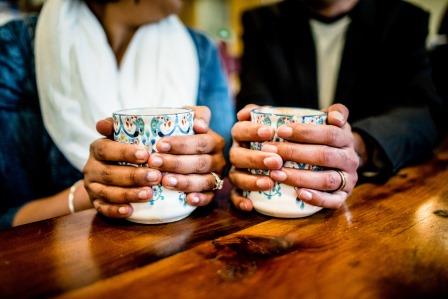 Chocolate is love
Our first date was at a chocolate shop. A few months later, he surprised me by getting down on one knee at the very same place!
Cacao Chaos was born from a wish to serve elegant, complex and delicious sweets reflecting our shared South Asian heritage AND love story at our wedding. Unable to find them, our first project in marriage has been imagining, perfecting and crafting them with our own hands.
We are committed to creating more than just bonbons but a complete "tasting moment". Developing balanced flavor profiles with an array of rich spices, covered in the magic of crisp and glossy chocolate, adding delicate and colorful designs to each piece and hand-staining wooden boxes with fair-trade coffee, we want you as delighted with your Cacao Chaos experience as we are in making it a reality!
To learn more about us and Cacao Chaos, please drop us a line below!
Ami & Jay
Philadelphia set the landscape for ourlove story, a stage for our eventual wedding and now as home to Cacao Chaos. We bring the same level of commitment to excellence to this venture as we do to our own marriage and apply high standards of quality in the production of each bonbon.
We are want to help you create "tasting moments." Contact us if we can help make yours even more special.